Foxes gains third consecutive "Outstanding" Ofsted - in every area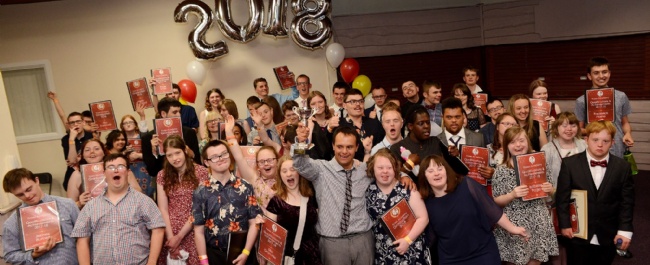 Foxes Academy celebrated the end of term with a third consecutive 'Outstanding' Ofsted. The grade one in every area means we are the only specialist provider of further education to have achieved this unprecedented result in three successive inspections. It is also a year which saw Foxes awarded the TES Overall FE Provider AND the Specialist Provider for 2018.
The three day visit saw inspectors scrutinise all aspects of College life. They also focused on data demonstrating the learners' achievements, transition to employment and independent living outcomes.
Foxes Academy is a Specialist College and Training Hotel for young adults with learning disabilities. We believe in changing lives and giving our learners the skills, knowledge and confidence to successfully shape their own futures. Our mission is to change the way society perceives people with learning disabilities. Ofsted highlighted a number of significant findings from its report which support this aim:
The vast majority of learners gain long-term employment or are successful in moving into independent living accommodation.
Partnerships with employers are excellent and productive, assisting learners to enjoy highly effective work experience or work placements. The real working environment of the Foxes Hotel enhances the experiences of learners very successfully.
Therapy staff provide highly effective support for learners, and therapists give invaluable help to learners when preparing for employment interviews.
Learners receive excellent careers advice and guidance as a result of well-established links with the National Careers Service. They develop the skills needed to secure employment, such as learning formal interview skills, undertaken with unfamiliar people to make the experience real.
Learners take great pride in explaining how they gain the skills and knowledge to be responsible and good citizens and how they help the local community.
Foxes Academy's Principal, Tracey Clare-Gray said
"This fantastic result is testament to Foxes' staff and our focus in ensuring learners are at the centre of everything we do. We continually reflect, review and adapt to ensure every young person reaches their full potential."
The Aurora Group's MD Operations, Kathryn Rudd commented
"Aurora is really proud to include Foxes Academy in the Group. They are Disability Confident leaders and trailblazers in preparing young people with learning disabilities for the world of work and independent living. The fact that 81% of their learners have been employed in the last year, with 43% paid, is particularly impressive when you consider the employment rate nationally for people with learning disabilities is 5.8%."