Foxes on BBC's The One Show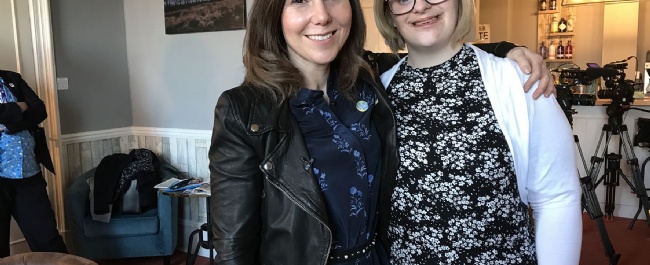 Presenter Sally Phillips visits Foxes Hotel as the U.K.'s only training hotel and college for students with learning disabilities. It's a real hotel and that's why it's a success – just check out Trip Advisor says Sally.
The film shows how Foxes helps young adults who want to work in hospitality, live independently and live life to the full through the eyes of graduate Olivia, aged 26 and student Tom, aged 22 who will leave college this Summer.
Tom shows Sally round his flat and recalls what his first days at Foxes were like. Tom wants to be a barman and will be doing work experience in London, he says it's important to earn his own money.
In the film, Principal Tracey Clare-Gray outlines the point of Foxes Hotel: skills, qualifications and the experience necessary to work in hospitality. By teaching our students to be work ready, life ready, Foxes saves taxpayer £1m per student over their lifetime in costs.
Olivia tells Sally if she didn't go to Foxes she wouldn't have a job and she would be at home. She doesn't want to be at home, she wants her own life. She now has a job with Hilton, has just won an award for her work, lives in her own home, has a boyfriend and independence because of Foxes' training.
Several years on from Foxes, Olivia is living and working, contributing to society just like any other young adult. She is a good example of the lived experience of how investment in special further education equates to an investment in society.