Oscar-winning actor makes video message for students at specialist college in Somerset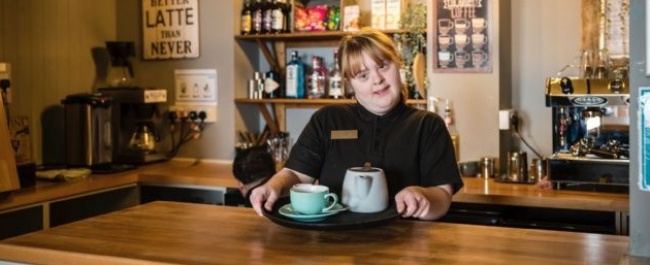 James Martin, Oscar-winning star of 'An Irish Goodbye' has made a video message for students at Aurora Foxes, a specialist catering college and training hotel for young people with learning disabilities.
He's the first person with Down Syndrome to win an Academy Award.
The message came as a response to a 'Good luck' film clip that students sent to him, ahead of the 2023 Oscars, where An Irish Goodbye was nominated in the Best Short Film category.
Aurora Foxes has a high proportion of students with Down Syndrome, and they were all delighted to share in James' news of an Oscar nomination – so much so they wanted to let him know. Their message showed them making coffees in their 13-bed hotel in Minehead which is open to the public all year round.
Although James is an actor, he also works part-time in his local Starbucks as a barista.
Students told him: "We are training to make coffees as good as you. We heard about your exciting Oscar nomination and we wanted to wish you good luck.
"Enjoy the red carpet."
They were thrilled to receive a personalised reply from him.
He said: "Thank you so much to Aurora Foxes for taking the time to do a video and making coffees."
"Keep following your dreams, make that coffee, and trust me it will be good."
You can watch the video messages to and from James on the Aurora Foxes Facebook page.