Aurora Woodlands School wins National Innovation Award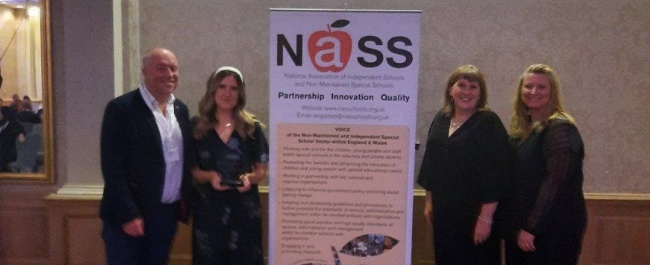 Aurora Woodlands School wins national innovation award for its well-being provision for special needs pupils. Aurora Woodlands beat two other nominees shortlisted in its category to win the award at a ceremony in Brighton attended by around 300 delegates from schools across the country.
Principal Sarah Gregory said: "It's very special to be recognised nationally for the amazing work that goes on every day at Woodlands.
"We work with pupils with a variety of needs who may have experienced trauma within their lives so our focus over the last year has been to develop our therapeutic spaces and support.
"This award was even more special as it recognised our innovative approach - and innovation is one of our five Aurora values."
The pupils at Woodlands, who are aged 10 to 19, enjoy access to a range of specialist on-site facilities which include a multi-sensory room which incorporates light, sound and a range of specialised equipment for both interaction and relaxation.
Parent Kiera Delaney said the children in their care feel safe and understood "not a problem to be fixed".
She said: "Woodlands is an innovative school and the staff are constantly looking for refreshing new ways to develop each child's individual skill sets and abilities."
A recent Ofsted report described Woodlands as a happy and welcoming place for pupils who see the school as a chance for a fresh start.