World Autism Acceptance Week - Steven's story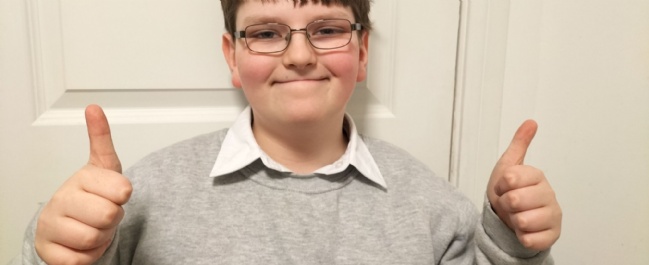 School's out, but I wish it wasn't
It's World Autism Acceptance Week. To find out what a difference feeling accepted (being included and understood) makes, and how the right school can really make a difference to the lives of students, meet Steven.
Steven Lyon is 12 and loving school.
He wasn't always happy though. Diagnosed on the autistic spectrum, he feels sensory overload and doesn't like too much noise or crowds. Because he couldn't interact fully with others in his mainstream school, he felt isolated and he was bullied. Teachers didn't understand how to cope with him. Steven felt like he was being constantly punished and ignored when he was asking for help, and he started falling behind. He never really laughed. Depression and anxiety had a huge impact on his mental health.
He left mainstream school and was home educated while his mum Abi tried to find a more suitable school.
Aurora Brambles
Steven started at Aurora Brambles in Leyland, Lancashire, in January this year.
It's an independent specialist day school, offering personalised academic and therapeutic support to young people aged 9-16 who face various challenges associated with social, emotional and mental health needs, including those who face communication and behavioural challenges associated with Autism Spectrum Conditions.
He has more common ground with fellow pupils there. He's already made new friends and has a group he plays football with. He loves the uniform as it's a sweatshirt with no formal tie and he'd proud to wear it and be at school.
Steven said "I've tried cookery classes and tasted new things and it's really fun – I didn't do that before. I love sport and do as much of it as I can and I like the outdoor learning. I don't feel anxious or stressed at school now because they know how to be with me and I know I can step out if I need to."
Principal Sarah Gregory said: "We're all very proud of the work we do at Brambles to enable students like Steven not just to survive their school experience but to thrive. When we first heard about Steven we knew that our unique approach to transitioning him into school and then building a bespoke timetable for him could have a really positive impact – and it's so good to see him arriving in school every day, smiling and ready to spend a happy and productive day with his new friends. We're blessed to have Steven in our Brambles family and look forward to seeing him learn and grow with us in the years to come."
Transformation
It's quite something when you're missing being at school over half term, but that's what Steven felt. He told his mum he thought he'd be bored and that a week was too long off – he'd never said anything like that before about school. He couldn't wait to return to see friends and keep learning.
Mum, Abi said: "All in all I've seen a massive change. He spends more time talking to us and interacting rather than hiding in his room - and he's even ventured to the local shop on his own! I feel incredibly proud of him as he's getting braver and more confident and trying new things. A lot of my anxiety has now gone as I'm not worried about him. It's transformed the whole family and it's a massive relief.
"The change in Steven has been extraordinary. He's gone from almost non-verbal to being a regular kid."
"He didn't speak about school before because he was unhappy, but now he does and I feel I have a much better connection with him."
Future
Abi said "I'm much happier about his future now as he has a direction to go in and I don't need to push him towards it. He doesn't feel pressurised, but he's still achieving and I'm so proud."
Steven said he hopes to carry on learning new things, making new friends and eventually wants to look for a work placement.
This is a great example of how well a child can do when given the right placement and opportunity and we wish him all the best for the future.