World Down Syndrome Day 2023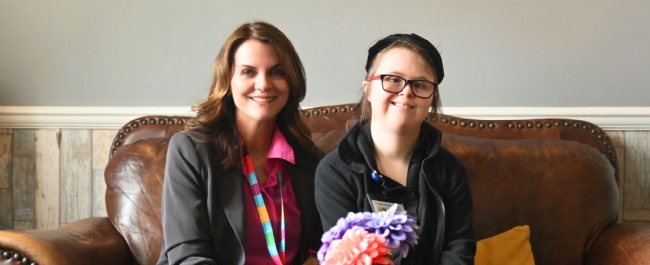 21 March is World Down Syndrome Day – and that date's no coincidence. It was chosen because it's the 21st day of the third month, relating to the uniqueness of the triplication (trisomy) of the 21st chromosome which causes Down Syndrome.
The theme this year is With Us Not for Us. That's something that Rebecca, 23, believes passionately.
Rebecca is a third-year student at Aurora Foxes in Minehead – a specialist college and training hotel for young people with learning disabilities. She's studying for a level 1 NVQ in Hospitality Services.
"With Us Not for Us means being independent but with help - so others stepping back and allowing me to be the independent person that I am," she said.
"Aurora Foxes are great at that. They support me to be independent in the home and also in the community. I used to really struggle with making my bed but now I'm getting better at it. I couldn't cross the road on my own before and I'm happy I can do it now. Learning at Foxes makes me feel more confident and I'm now more assertive because I've learnt to say 'no'. My parents are really proud because before Foxes I wasn't independent and now I am. I look forward to the future now.
"I've made loads of friends too. My best friend has to be Saffron because she loves to talk as much as me!
"I'm really proud of what I've done at college so far - achieving my NVQ and getting a Merit in my English Speaking Board exam. Most of all though, I'm proud of being independent.
"I also won the Most Inspirational Student award. For the first time I got a trophy. I've never had a trophy and now I do. My first trophy!
"I love Foxes - I've got no words - it's just amazing. This is my final year and I know I have to leave Foxes but I do love it."
"I've been working towards future employment in the hospitality industry and have done work experience in a café, front of house. I loved it there so carried on. It's the customer side of catering I love the most because I love to talk to the customers. I like helping people.
"I do a lot outside of college too. At Minehead Eye we go on the scooters and I do some climbing, but I'm not very good at it! It doesn't stop me trying though! I go to mindfulness, drama and I sing in a Makaton choir. I also do karaoke and my favourite song is Greatest Day by Take That. I love Gary Barlow!
"Ballroom dancing is fun too. My favourite dance is the waltz which I love to do with my boyfriend Charlie.
"After Foxes I'm planning to get a job in the Hilton near Bristol Airport. My family live in Portishead near there. I've decided that for a bit I'm going to be living at home until I get a paid job and after that I might go into supported living.
"So Down Syndrome doesn't hold you back. My experience of it is that I love who I am as a person - everybody is special and different. And I've always felt special. I love who I am and I'm so proud of myself."
You can find out more about World Down Syndrome Day by visiting www.worlddownsyndromeday.org or following #WorldDownSyndromeDay. Find out more about studying at Aurora Foxes at www.theauroragroup.co.uk/foxesacademy.
As the UK's only fully operating training hotel for young people with learning disabilities, a stay at Foxes Hotel is a truly unique experience. The hotel offers unique and luxury en-suite double, twin and family bedrooms many with fantastic sea views. www.foxeshotel.co.uk.