Charlie's story
July 22, 2020
How our students can become our employees of the future
Meet Charlie, a student at Aurora Caterham Education Centre. In the last couple of weeks, Charlie started a work placement as a Teaching Assistant in one of the Key Stage 2 classes at Caterham's sister school, Aurora Redehall, where he is known as 'Mr Turner'.
Charlie started his journey with Aurora in November 2017. Charlie found school environments difficult to settle in to, yet our fantastic team did all they could to make the experience for Charlie a positive one.
They thought 'outside the box' and put together an outreach program that started in a local café near Charlie's house led by a 1:1 tutor, with therapy staff visiting to ensure social communication and emotional regulation programmes were in place.
Over the course of the year, Charlie would begin to make small steps back towards school. He progressed from only being able to be in the playground, to working 1:1 within a classroom environment. Fast-forward 2 years, Charlie made it back into a class no longer needing any 1:1 support.
Charlie is now an exemplary student and regularly receives rewards for his acts of kindness towards others. He is exceptional with the younger students, which is what led him to his current work placement.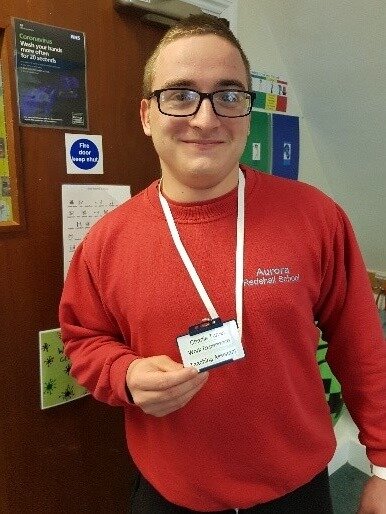 The feedback from the class teacher on Charlie's placement has been outstanding. Mrs Perkins said:
"Charlie is a natural, he is such a calming presence and is totally un-phased when the young children are anxious. He knows when to help and when to hold back and not over support, and instead gently encourage the children to undertake their work independently"

Mrs PerkinsClass Teacher
In September, Charlie will remain at Caterham Education Centre to continue studying Maths, English and core studies, but will be doing 1 day a week at his local FE College, with a view to transitioning onto a childcare course full time from September 2021.
Jon Sillar, Head Teacher at both Caterham Education Centre and Redehall told Charlie that once he has his TA qualifications, he looks forward to interviewing him for a job!
We are so proud of Charlie and his achievements, and it goes to show in the right environment, despite all odds, anything is possible.