Work Experience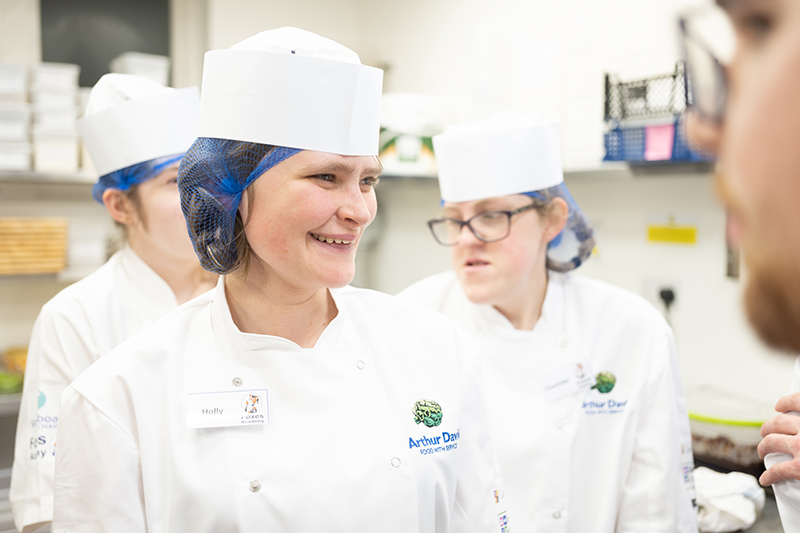 Research shows that people with a disability stay in a job longer and have a strong commitment to their employer and lower rates of absenteeism.
Students gain valuable work experience from day one in Foxes Hotel which is open to the public. Students also have external work placements in the local community and sometimes further afield. The development of close working relationships with local organisations has led to a work placement scheme that carefully matches the needs and desire of each individual with an appropriate employer. We have many local providers that can offer work experience in Food Preparation, Food Service, Front of House and Housekeeping in settings varying from Hotels, Restaurants and Cafes to Community Support Groups and Children's Play.
External work experience placements provide an opportunity for students to experience what it is like in different work environments and will work towards the objectives of their qualifications in their chosen area. They will develop their ability to work as part of a team and will be able to identify areas of strength and those that need to be improved.
In order to make this as realistic as possible we have developed a process similar to one they will follow when applying for jobs after they have graduated.

Through this process, students will put into practise their employability skills and understand the process of applying for a job and they will develop their interview skills.
Students will develop their independence in the community where possible and will work towards travelling independently using public transport if necessary.
Students usually attend their work experience placement one day per week for a period of up to 16 weeks. During this time students work towards personal targets for communication, therapy, behaviour in the workplace as well as objectives to support their hospitality qualification.
Students' progress will be reviewed at 8 weeks when, with support, they will identify their areas of strength and set improvement targets for the remainder of their time in placement.
Benefits for the students:
Experience the process of applying for and interviewing for jobs which will develop their employability skills and enable them to transfer these into various settings and numerous contexts.

Explore hospitality job roles.

Gain skills needed to work as part of a team, to follow instructions given by different people and to communicate effectively with team members and customers.

Apply their functional skills in different contexts and have the chance to put what they have learnt into practice in real life situations.

Gain evidence to show they have met some of their personal targets in a different environment.

Gain observations to go towards their hospitality qualification.

Work towards independent travel skills.

Are highly motivated to gain the most from the experience.
Feedback from Employers:
'They have gone from strength to strength with their cooking.'
'Really love having Foxes students here.'
'They have come such a long way since they started work experience here. They have made such great improvements.'
'They have been an absolute delight to have here. They have applied themselves to all tasks given to them.'
'They are always positive, polite, well presented and have a lovely sense of humour. We have really enjoyed working with them.'
'It's been a pleasure to have them. They've worked very well completing all tasks given to them. Till work – they are brilliant at.'