Hogging the limelight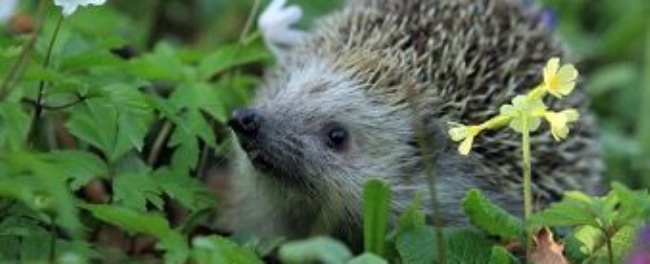 Aurora Boveridge College, a specialist further education college near Cranborne for young people with Autism spectrum conditions and associated needs, were thrilled to be awarded Bronze Hedgehog Friendly Campus status.
30 April to 6 May is Hedgehog Awareness Week and a chance to highlight the help these hogs need as they're now classified as vulnerable to extinction. Projects such as Hedgehog Friendly Campus are needed to help to boost their numbers.
The scheme is run by The Hedgehog Preservation Society to help educational establishments make impactful changes for hedgehogs.
Teacher (and Hedgehog Champion) Emily Sheppard at Aurora Boveridge College explained why they got involved: "It's a species in decline in the UK and hedgehogs need everyone's support.
"It was fun and educational for the students. We built hedgehog houses and bug hotels to encourage safe hibernation and access to food reserves. We also completed a hazard audit and hedgerow survey, assessing the environment for the hedgehog population. Part of this project included supplying the grounds team with helpful advice, including handy hedgehog awareness stickers highlighting the safe use of strimmers and leaf blowers.
"All the students involved were using this project as vital and real evidence for part of their BTEC Animal Care qualifications at Levels 1 and 2.
"Two of our students, Jack and Elizabeth, chose to become Hedgehog Ambassadors so they'll continue to monitor the success of the project and prepare for the next award -Silver. They act as ambassadors for the project to students and staff."
Jack took part in training to spot hedgehog footprints and said: "I found the training useful and enjoyable, as it taught me a safe and non-invasive method of testing whether there are hedgehogs in a given area. As I enjoy identifying animal footprints, it also helped me learn more about not just hedgehog footprints, but also those of other common garden wildlife such as squirrels, rats and shrews. I also learned that hedgehogs are red-listed, meaning they are rapidly declining in numbers and at risk. We were taught that we should avoid building bonfires too far before they are burned, as hedgehogs can and will take shelter inside wood piles both in the active season and during hibernation. We were also taught that hedgehogs will not run from a threat, putting them at risk when strimming hedges and mowing long grass."
Emily continued: "Working for our Bronze Award has given us real world opportunities for students and staff to engage in a national project supporting this much loved and declining species and we're excited to be working towards the Silver Award."
If you want to get involved too then visit the Hedgehog Friendly Campus website About us | Hedgehog Friendly Campus.
Aurora Boveridge College is a specialist further education college providing day and residential support for young people with Autism spectrum conditions or additional social, emotional and mental health needs. You can find out more at www.theauroragroup.co.uk/boveridgecollege.
State of Britain's Hedgehog 2022 report NEW State of Britain's Hedgehog Report issued today! - The British Hedgehog Preservation Society (britishhedgehogs.org.uk)